If you're to make things happen in the darkness, you need the best tactical headlamp to improve your night vision. You may also consider getting something bright. But why go for a tactical headlamp when any other run-of-the-mill lantern or flashlight could still serve the same purpose?
Well, unlike your typical 3-dollar headlamp, the best tactical headlamps are real badass military-style gadgets designed to stay with you in the hardest times and tightest places. Also known as military headlamps, Tactical Headlamps are known for their blue-chip construction and top-level performances. They are, therefore, sought after in rescue missions and other tasks where light and free hands are vital for survival and success.
The best tactical headlamp is not only meant for death-or-life situations though. It can also be used for camping, hiking, fishing and several DIY activities around your home like fixing leaking faucets in pitch-dark corners. In fact, tactical headlamps are far greater reliable since, well, even the best planned outdoor expeditions turn ugly. And there is need to be on the safe side in such circumstances.
If you are hunting for the best tactical headlamp, here are our top picks:
Nitecore NU30
Check Latest Price on Amazon.com
Best-in-class construction
Our first unit here is a stellar tactical headlamp from Nitecore. It has above-average features and will take quite a good beating without giving in. It has a one-piece light assembly housed in a hard-plastic case. You'll need to smash it real hard with a hammer or a rock to crack it. Otherwise, accidental falls mean no threat to it. 
3 output modes for different tasks
What makes NU30 one of the best tactical headlamps out there is its incredible output performance. It can project up to 400 lumens of bright light to a range of 132 yards on its brightest mode. It also offers you 1000 illumination angle. So the area around you is lit both far and wide. There is also a 35-lumen output mode that emits sun-like light. It's ideal for close-up tasks such as barbecuing, reading, and sewage and automotive repairs. The last mode (19-lumen output) is perfect for use in low-lit areas where bright light isn't so necessary. 
Red flashing mode
Besides the 3 white color modes, Nitecore NU30 also boasts an additional emergency mode. It's ideal for times when the user is lost and is trying to alert others for help. The RED light is bright and visible from far.
Powerful battery
Another major selling point that makes the NU30 the best tactical headlamp. It is its built-in 1800mAh lithium battery. This battery promises you over 75 minutes of run time at the brightest mode and up to 2 weeks of light time on low mode.
Multiple charging options
But what's amazing is that you can charge the battery from wall sockets and all other USB power sources like computers, laptops, and power banks. Importantly, the NU30 has a battery status LED that keeps you posted on the battery level.
PROS:
Ultra-compact and lightweight (2.9 oz with battery)
3 interchangeable modes for long search and close up activities
Has an emergency mode
Battery level alert
1000 illumination angle
All-weather proof
Multiple charging options
Over 300 hours of light time 
Petzl STRIX VL
Check Latest Price on Amazon.com
Extreme versatility for the best tactical headlamp
Petzl Strix VL is another multi-discipline tactical headlight designed to give you all the convenience that you may require in long searches or as you ride down mountains. With little adjustments on the headband, this military headlamp can be worn around the neck, on vests, on the head, and even on hard/rescue caps. So you get to direct the beam exactly where you need it. 
Lamp with double rotating ability
What makes Strix VL one of the best tactical headlamps in the world is its thoughtful rotating abilities. This is the only tactical headlamp on this list that allows both horizontal and vertical movements. You can rotate the beam 1200 vertically and 1800 horizontally. This feature makes it the best tactical headlamp to conduct rescue missions in river valleys and on cliffs. 
Non-blinding light
The major drawback with the Nitecore NU30 was it may be too bright for som. Though high-intensity light is exactly what we need for the darkest nights, the NU30 makes it hard to face other campers or rescuers without blinding them.
The good news with the Strix VL is that all its modes are comfortable to look at. Again, it automatically resets to the lowest mode every time you turn it off for stealth use. Finaly, you can also switch the light of the color to red, blue, or green to make it more comfortable for people around you. 
Easy to change the light and cut the power
Petzl Strix VL is quite tactical when it comes to navigating through its lighting modes. With this one, you only turn a knob to either dim or intensify the light.
PROS:
Rotates vertically and horizontally
4 selectable colors
Switch locks to prevent accidental lighting
Constant lighting
Comfortable headband
Wear it on the head, vests, caps, and waist 
CONS:
Less lumens than comparables
Tactical 5.11 S+R H3 Headlamp
Check Latest Price on Amazon.com
Best bang for your buck
Considering this tactical headlamp's construction design, you'll be using it for several years and probably decades to come. It's made of a combination of aluminum and polymer and should withstand lots of abuse.
Comfortable on your head in the best tactical headlamp category
The S+R is the best tactical headlamp when it comes to comfort. Additionally, its headband is fully adjustable and elasticized. It's easy to tweak its circumference to fit on your head and also on different hard caps. When need be, you can easily remove the top strap, especially when mounting it on a deep cap or helmet. Importantly, the straps have a comfortable grip surface that keeps the headlamp on while restricting any form of unwanted movement. Also, it has a reflective stitching that makes you easily noticeable even when the unit is switched off.
Uses both AAA batteries and a rechargeable battery
This is perhaps what makes Tactical 5.11 the best tactical headlamp under 100. It's an S and R (Search and Rescue) lighting device. As such, it's designed to use a pack of 6 AA batteries or NiMH rechargeable battery. Furthermore, the 2 power options are in different packs and are squeezed gently against the back of your head.
High and Low light modes
Tactical 5.11 is fitted with a Cree xp-g2 spot beam and 2 other LED floodlights (one on either side). You can use them singly or together while switching between its 2 modes. This tactical headlamp can offer you between 8 and 20 hours of light time depending on the mode and LEDS used.
PROS:
Up to 20 hours of light time
Floodlight Mode
Durable construction
Comfortable, fully adjustable, and reflective elastic headband
Uses AA and rechargeable batteries
900 vertical rotation
Lockable switch 
Princeton Tec Quad 4 L.E.D.
Check Latest Price on Amazon.com
Super lightweight and comfortable
At around 3.4 ounces, Princeton Tec is another lightweight tactical headlamp that outdoor fanatic could go for. A nice feature here, though not so unique, is that the entire lighting system is held on one unit. Unlike in S+R H3 Tactical Headlamp above, there's no separate battery compartment to cause unnecessary discomforts at the back of your head.
The strap is made of elastic fabric and stretches well and easily to make wearing hassle-free. It has a rugged clip that makes it possible to attach the unit to helmets, hard hat, around your neck, and onto your backpack too.
3 interchangeable Lens colors
Not all instances require the white color mode. If you're going to cut through smoke or mist, for instance, you'll want something else other than white. Princeton Tec comes with 3 interchangeable color filters for such circumstances. You can change the mode to red, green, or blue to suit your scenarios best. The best part is that the filters are easy to replace.
4 lighting modes
Princeton Tec sucks power from 3 AAA batteries. At the highest mode, this tactical headlamp gives 45 lumens and illuminates a distance of 37 meters. It, however, offers utmost 1 hour of burn time on this mode. Moreover, to save on batteries and where a bright light isn't so much essential, you can go for the medium or low modes. On these modes, you get 10 and 31 hours of burn time respectively. You also get a safety flash mode for emergency use.
PROS:
Super lightweight
Compact design
4 interchangeable color filters
3 lighting modes+ Red Flash emergency mode
Comfortable elastic fabric strap
Durable 
Petzl PIXA 3 Pro Headlamp
Check Latest Price on Amazon.com
Constant lighting technology
What makes Petzl Pixa our best choice in the search for the best Tactical headlamp is its constant lighting technology. This ensures that the mode you're using doesn't dim gradually as the batteries drain. You, therefore, get the best value from your batteries.
Multiple placements
Another great feature with Pixa 3 Pro is that it adapts easily to all lighting requirements. The head can be adjusted up and down. This is done to direct the light where you need it most. This is when its worn around the head. Again, you can also attach it to a helmet using a mounting plate that comes with the package. Moreover, the head is designed such that it can sit on any level ground when need be. 
Multiple function-oriented modes
Interestingly, Petzl Pixa 3 Pro offers different modes adapted to different situations. The first mode offers you a wide uniform mode for close range activities. You also get a long-range mode for distant illumination and searching. The last mode, movement mode, has mixed beams and is ideal for movement. Lastly, all these modes are changed using a knob which is easier and more reliable than a push-button.
PROS:
Automatic Power Reserve mode
3 Function-oriented modes
Multiple placements (around the head, on helmets, on the ground)
Adjustable head
Lightweight
Constant light technology
Use a knob to change modes
waterproof 
Petzl Tactikka + Headlamp
Check Latest Price on Amazon.com
Most tactical operations require a high level of stealth and caution. This military headlamp allows for lighting in operations that require due caution and precision. It illuminates at very close range making it hard to be detected.
Stealth Enhanced
To enhance on stealth, it has exchangeable red and white lighting. While the red one ensures that you enter into a dark environment with a lot of caution, white light brightens your way along. This kind of lighting makes it a perfect definition of the next generation of tactical headlamps.
The long life of the batteries makes it good for long night operations. It ensures that you do not get yourself in the dark as it provides an over 250 hours burn time. It would be both dangerous and disappointing for you to find yourself out of power while in an active and rigorous outdoor action. To avoid this, the headlight has a signal for notifying you when it's almost discharged. This allows you to change the batteries or an alternative rechargeable battery usually bought separately.
Sturdy Fit
The worst that can happen to you in the field is having gear that doesn't stay on your head. You can imagine while on a long trek and the headlamp falls off just because it wasn't held comfortably on the head. However, this is not the case with this tactical headlamp. It has a very adjustable strap to hold it up well. The headband is very easy to fit as the buckle for adjusting is very quick-opening.
Other additional features that make this headlamp stand out among the rest for tactical or military style operation is the camouflaging colour of the headband. The entire lighting system is very light and shock resistant. This combination of features makes it a good headlight to take on tactical or military style operations.
PROS:
A very light weight
Has a good hold on the head with a very adjustable headband
Red right to ensure stealth which accompanies military operations
Has alternative rechargeable batteries in case they run out of power.
CONS:
Not convenient for in-water operations like diving
Panther Vision POWERCAP LED Beanie Cap
Check Latest Price on Amazon.com
If you are looking for a dual-purpose headlight, then panther headlamp is exactly what you looking for. It is comfortably mounted on a low profile camouflaging hat. This makes is both a good headlight for in the deep woods operations and hands-free activities.
Moisture Wicking Design
During rigorous military or tactical activities, one is prone to sweat or exposure to moisture. The headlight is fitted with a polyester lining for wicking any form of moisture hence preventing water getting to the lighting area. This wicking ability of moisture does not only protect the lens but also keeps you dry all day.
The headlight has two differently angled LEDs. One is faced towards the forward area lighting your path up to over 40 feet. The other LED is angled to face down to your hands to allow you see what your hands are working on. This divided form of lighting allows comfortable view of both short range and long range distances.
Great Battery Life
Another feature worth mentioning is the life of the battery power. It might be a concern of any prospective buyer to know how the headlamp is powered and what happens should it run out of charge. This headlamp uses 4 batteries that last up to 43 hours of continuous illumination. Should they run out of charge, which you will notice via the power low signal, you can easily and without any technical experience, requirement replaces them.
PROS:
Has a very comfortable fit as it is mounted on a hat
Wicking lining on the inside of the cap to dry any moisture on the head
Has two different angled LED lights for both long range and short range lighting
The batteries are replaceable and have a relatively long burn time
Delivers higher level of lighting than other lighted caps in the market
CONS:
Not water resistant hence not convenient for in-water operations
Petzl STRIX IR Tactical Headlamp
Check Latest Price on Amazon.com
One of the biggest worries of anybody when it comes to handling lighting gadgets is how to carry them without affecting your working ability. This headlight provides you with a wide variety of carrying options. It, therefore, allows your hands to remain free to do other tasks as it lights for you. The light beam of the headlight is rotatable up to 180 degrees. This offers a broad spectrum of light for you. The beam is also divided into two, a vertical rotation of 120 degrees and the horizontal of 180 degrees orientation.
Reserve Power Function
Unlike most of the headlamps that go off when the batteries dry off the charge, this headlight switches automatically to the reserve power. You are also able to know the power is almost drained through the charge indicator which makes signals to alert you. This helps in avoiding getting you into the dark due to power drain. You are therefore assured of a constant flow of lighting.
Color Choices For Tactical Use
Other than the two different beams orientations, the headlamp has different levels of light infractions. This provides a selection of different colours i.e. green, blue, red and white. It is possible to switch colours for the best lighting. The colour lighting makes it one of the best headlamps for activities requiring high-level stealth.
Some additional features that would make you may consider this headlight is its easy fit on a combat or tactical style helmet. It is generally lightweight that you don't feel its weight on your head. For safety, it has an IFF mode for recognizing friends.
PROS:
Has variety ways of wearing it on
Has a friends and foe recognition serialized mode which makes it a good headlight for joint wings operations
It is lightweight and easily mounts on helmets and hats
Runs into power reserve use when the batteries get drained of power. This ensures uninterrupted flow of light.
Has stealth enhancing forms of lighting
Zebralight H52 Cool Headlamp
Check Latest Price on Amazon.com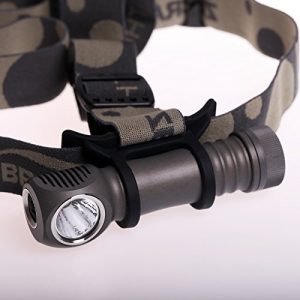 If you are looking for a headlamp that you can use to access water or moisture containing environments, then you should consider the Zebralight cool headlight. It has a waterproof lens. This makes it an ideal headlamp for divers and other in-water operations.
Environmentally Versatile
As a military or tactical oriented person, you will in most instance access different environments. The level of exposure is very high. This headlight is designed to keep you away from any hazardous currents as it is currently regulated at all levels of brightness.
One of the challenges with any gadgets accessing different environment is that they don't last long. However, this headlight has been made of an aluminum body with anodized finishes which make it very durable. Even with this tough body make, it is amazingly lightweight.
Multi Level Light Output
Just like most of the excellent headlamps with different lighting levels, this too has three levels divided into high, medium and low. When in the low light mode the battery can run up to 3 months with the highest mode keeping you in the light for around an hour. Amazingly, it automatically switches to lower brightness levels when the battery gets low.
Another notable feature of this headlamp is its lightweight nature. It weights around 80gms. It is also very simple to use as it is controlled using a single button.  This makes it very versatile and usable for different operations.
PROS:
Has wide range of light levels
Has a long battery life when operating at the lowest lighting level
It weighs below 100g making it very lightweight
It is made of aluminium with anodized finishes which makes it very durable
CONS:
When operating in the highest lightning mode, it has a considerably low burn time.
Nitecore Rechargeable LED Headlamp
Check Latest Price on Amazon.com
This is one of the headlamps with a high level of light output. It has five different levels of brightness which can be easily switched depending on the light requirements. Just like Petzl STRIX IR tactical headlamp which has two different beams rotation orientation, this headlamp also has two rotations support. The vertical one is 90 degrees wide while the horizontal is 100 degrees. The overall beam can light up to 128 yards.
Rechargeable Design
Regarding power, it is powered by batteries. They are packed in a case with a USB port for recharging should they run out of charge. When fully charged, the headlamp can keep you illuminated for 680 hours.
Another key aspect when it comes to the choice of a headlamp is its weight. Given that a military operation is very involving, a very heavy lighting setup would not be appropriate. However, Nitecore headlamps are extremely lightweight weighing 5 oz.
Single Button Control
You may be concerned about how you operate the headlamp. Relax. It is operated with a single on and off button. This simple to use feature and its wide range of brightness levels make it very versatile to use in different areas.  It is, therefore, suitable for both indoor dark stations and outdoor activities.
Even though the body weighs below 100g, it should not be assumed to be inefficient in terms of durability. It is very durable and comfortable. To complement the comfort feature, it is fitted with a strap to adjust fit on your head.
PROS:
Weighs below 100g hence very lightweight
Has wide range of brightness modes and can run up to 680 hours on the lowest mode
Has both long and short range lighting ability hence good for indoor and outdoor use
The batteries are fitted with USB for recharging
Very simple to operate
CONS:
Some of it batteries series are not rechargeable. However, they can always be replaced in case they run out of charge.
Conclusion on the best tactical headlamp
Having the best tactical headlamp can be a life-saving idea. Though the best tactical headlamps are way pricier than simple headlamps, they always pay for themselves given their durability and incredible functionalities. Whether you need a reliable headlamp for search-and-rescue missions or your outdoor adventures, it's our hope that this list of the best tactical headlamps was of help to you. Finally, get out there and go find the best tactical headlamp.