When packing your camp essentials, a headlamp is one of the items you can't leave behind. First of all, these devices have come a long way from being the simple lighting tools to sophisticated units. Among the advancements made on these headlamps is that they are now waterproof so you can use them amidst showers and storms. Some can even be completely immersed in water. That is an important feature when on the search for the best waterproof headlamp.
Here, we provide a detailed overview of the Best Waterproof Headlamps. They prove reliable in that they can sustain various levels of exposure to water.
Top Best Waterproof Headlamps
5
Fenix HP12 Professional LED 900 Lumens Headlamp
Check Latest Price on Amazon.com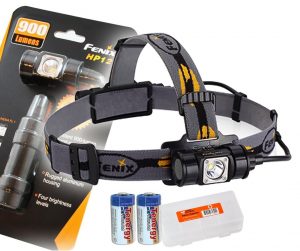 To start, the 900 lumens on the Fenix HP12 make it a popular pick for the best waterproof headlamp. It has the best combination of durability, brightness, and battery life. Secondly, the headlamp has an IPX8 rating meaning it is resistant to moisture, water, fogging, dust and the like. In fact, it is submersible to 6.5ft and freezeproof to 40 degrees!
High-Quality Design
This device boasts a hard-anodized finish. Moreso, it is abrasion and corrosion resistant. You should expect it to retain its external luster for many years. With the housing from aluminum alloy, it steers clear of any fading which could make it lose its robust making. Not to mention, the lens is toughened to use ultra-clear glass. It has an anti-reflective coating which ensures it does not produce glare and blind other people or drivers.
Constant Lighting
Fenix HP12 has a digitally-regulated light output. Finally, it gives off constant brightness which helps preserve the battery life for extended periods. Therefore, this means that when the battery runs low, the intensity does not dim. Furthermore, it provides four patterns to choose so you can use the light in different environments. The best waterproof headlamp requires these important features.
PROS:
IPX8 waterproof rating
Hard, durable housing from steel and aluminum alloy
It has reverse polarity protection for the batteries
It uses one switch for all functions
4
Black Diamond Storm Headlamp
Check Latest Price on Amazon.com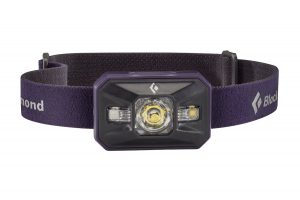 Even from the name, Black Diamond's Storm showcases a unit that is entirely weatherproofed. This is one of our favorites in the best waterproof headlamp category. It can withstand immersion to 1meter for 30minutes. Not so great for diving but you'll find it useful for finding stuff in water during backpacking expeditions. It meets dustproof standards, so if you work in dusty environments, it will still prove reliable.
Dependable Light Output
Using Power Tap Technology, the Storm provides instant switching between full and dimmed power without manual changes. It senses the battery level and gives off light according to the energy reserve. This way, you'll have excellent usage of your lamp before the batteries die. Better still, it benefits from eight light patterns to allow a customized view.
All-around Use
You can have both extensive coverage and a focused spot beam for long distances. It has three different night vision colors. Secondly, it opens up your nighttime expeditions like hunting as the colored lights provide for object identification. Additionally, you'll also be able to perform a wide range of activities like collecting firewood and cooking in your campsite.
PROS:
Rugged construction for night excursions
Can be immersed to 1meter for 30minutes
Ideal for close range and long distance viewing
Eight lighting modes provide personalized lighting
3
Black Diamond Spot Headlamp
Check Latest Price on Amazon.com

From Black Diamond, we have yet another competitive waterproof headlamp. To start, the Spot model is IPX8 rated meaning it is submersible to 1meter for 30mintes. It meets the outdoor demands with equal ruggedness. It features a super bright quad power LED and white double power LED which together give off 300lumens of brightness.
Customizable Settings For The Best Waterproof Headlamp
You can play with the patterns of this lamp. First, in proximity and distance modes you get full strength lighting. It also enjoys dimming and strobe functions along with a red night vision mode. It helps preserve your eyes since the red will not flash brightly and cause you to squint the eyes. Also, the lock mode also comes in handy to prevent accidental turning on when you are not using it.
The dependability of this headlamp goes as far as using Power Tap Technology and brightness memory functions. Therefore, it can transition between the highest intensity and dimming setting automatically just by tapping on the housing. The brightness memory allows switching ON of the device at a particular intensity level so you can utilize the batteries for long.
Dependable Battery Life
By using 3AAA batteries, this headlamp provides 25 hours of runtime at 300lumens. At the lowest mode, you get 180 hours with this best waterproof headlamp. Moreover, it offers a beam distance of 80meters which is improved to give enhanced peripheral lighting. Also, the batteries do not add any significant weight since it only weighs 3.2ounces. It stays balanced on the head to alleviate fatigue after long hours of use.
PROS:
High light output (300lumens)
Variable brightness settings
3strobe levels
IPX8 waterproofing rating
CONS:
Shorter beam distance flood setting
2
Foxelli Headlamp USB Rechargeable
Check Latest Price on Amazon.com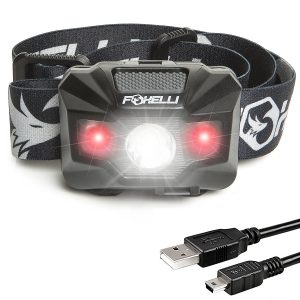 First off, if you live in areas where winter is longer than in other countries, you know the need for a watertight headlamp. For one, the days are shorter, and the environment is frigid. The Foxelli model will provide you with ample light in the most extreme conditions. Secondly, you'll enjoy 100 hours of constant light using the extra bright 180 lumen LED bulb.
Great Illumination
The Foxelli torch provides five brightness modes. First of all, it has high, medium, low, and strobe settings for a distress signal. Aditionally, it operates using a push button which is easily located by touch. You'll have to toggle through the modes, but it's reasonably easy to master. Furthermore, we like the automatic green light which makes you visible to the people behind each time the lamp is ON. Moreover, this headlamp can tilt 45-degrees to direct light to other objects around you.
Excellent Durability
The headlamp meets IPX5 standards for water resistance. It can withstand storms and heavy rain, only that it should not be dropped in water. Nevertheless, it remains functional after dropping on hard surfaces, and the LED is shatter-proofed. Is this the best waterproof headlamp? I wouldn't say so, but it does make our list for something to consider based on your needs.
Battery Reliability
This unit uses USB rechargeable batteries. Additionally, it takes only hours to charge it fully and it can last up to 40 hours on a single charge. You'll have a device which is reliable even if you fall off the grid for two days. The batteries provide the perfect balance so that it won't sag or bob up and down when trekking down a mountain trail.
PROS:
Far-reaching beam (300ft)
Weighs only 2.4ounces
IPX5 weatherproofing rating
It has 120-days trial period
CONS:
It cannot withstand being submerged
Check Latest Price on Amazon.com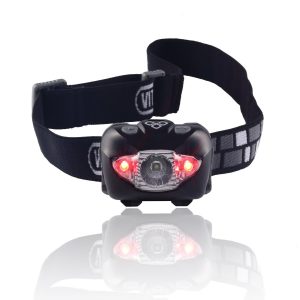 Making it to our TOP position, we have the Vitchelo V800. First, it rates as the most affordable and yet the model with highly dependable features. First, it achieves an IPX6 waterproofing rating. It is resistant to water jets from all angles, and it can even function after being dropped in a stream.
Easy to Operate
Second, other headlamps use one button where sometimes the learning curve is a bit steep. The Vitchelo V800 gives you a lamp that uses two separate buttons for the white and red lights. This way, you'll not fumble on functions when trying to set it to the correct intensity. We also love the compactness it exudes such that it packs small in your backpack.
Versatile Usage
Moreover, with 168 lumens you can light up a path up to 360 ft. As far as getting hands-free operation goes, the curved and sleek design comes so much in handy. You can wear it on a cap, helmet or use the adjustable straps to have a custom fit. Take it for trail runs, hikes, fishing, and even hunting escapades.
Long Battery Life
The Vitchelo V800 runs on 3 AAA batteries. At the highest intensity, you'll get 12 hours to use it. But 168 lumens is very bright, so if you scale down the brightness, you'll have longer usage. Better still, the beam is even and natural to prevent it from hurting your eyes. Finally, the red light is great for signaling your position and to get you out of challenging situations. It exudes authenticity so don't go without this incredible lamp.
PROS:
360 foot beam distance
168 Lumens
IPX6 Water Resistance
It has 120-days trial period
CONS:
Do not fully submerge under water
Factors to consider when purchasing the Best Waterproof Headlamp
Of course, the first thing to check how well the lamp resists water is the rating. First off, the international IP scale starts at IPX4 for protection against light rain and showers. It goes to higher scores from IPX5 to IPX8. These are headlamps which can be submerged in water and still function as good as new.
Every headlamp should provide the light you need to illuminate the path in front and around you. Moreover, a headlamp that gives a white and red light is better off than one without. It's imperative that you look at the lumens. This way, you can tell how bright the headlamp is.
When speaking about waterproof headlamps, only someone who has used the device in wet conditions can say for sure. That's why you should pay attention to what other users are saying. Additionally, if most people point to a reliable product, then you have convincing evidence that it is worth buying.
Conclusion about the Best Waterproof Headlamp
If you have to be outside no matter the weather, these are the best waterproof headlamps. They are watertight seeing that they meet high IP standards. They are protected against winds, storms, immersion, and even freezing conditions. Some of them also meet high dust impervious levels making them all-around units. Finally, you'll appreciate working with one of the products above. On this list, there's a headlamp waiting to meet your exact needs.