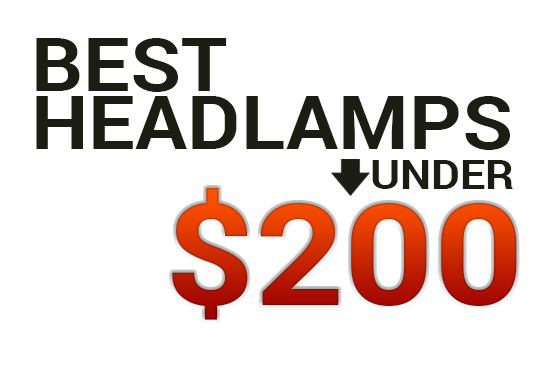 Do you love the outdoors after dark? Well, if you answered with a YES, you must agree that you can't leave the house without a source of lighting. What better way to illuminate your paths than with a headlamp. These devices have come a long way, and they always save the day. If you are an avid camper, military operative, hiker, mountaineer, or even a trail runner, the best headlamps under $200 will come in handy.
The best thing about headlights is that they offer hands-free operations. Remember even the smallest of tasks require both hands; like lighting a match box for your camp fire, gathering wood and even preparing a meal. The best headlamp does not always mean digging deeper into your pockets to meet the upscale price. Here, we review only top rated headlamps. They are from different brands but have some important things in common. Again, they are not only affordable, but they also offer durability, bright lumens, and reliability.
When making your pick about the best headlamps under $200, it is important you look for a headlamp with simple, functional features, long battery life, plus it must meet your specific lighting needs.
5
Petzl STRIX IR CAMO E90BHBC Tactical Headlamp
Check Latest Price on Amazon.com
If you are in law enforcement or the military, you must place a high priority in the type of headlamp you purpose to use. The Petzl STRIX IR does not disappoint. First, it has three lighting modes, which diversify further to bring you color-coded light in red, green and blue.  In one mode, three white beams in the second function and the stealth mode for battery preservation. Also, the best thing about it is the infrared lighting for preserving your night vision while allowing you to recognize objects in total darkness.
Smooth Learning Curve
As with any device, knowing how to operate it, gives you the advantage of using it to the fullest. This model has the functions for close range illumination, movement function, IFF mode and the flashing mode. These operations are intuitively designed to give you all-around security so you can feel confident when facing off even the most random environments. Better yet, it is in a camo color, which helps in hiding your position as you can blend in easily with the background.
Mounting Options
Is it not pleasing to find a headlamp where you can customize it? With the Petzl STRIX IR, it allows you to wear it on your head or mount in on a helmet. It is furnished with the mounting accessories including the Ops Core rail system for the helmet. Additionally, it can also mount on your tactical vest or even carry it safely around your neck. This one was an easy pick for our list of the best headlamps under $200.
PROS:
Easy to learn and master
It has several mounting options
Low battery life indicator
Can rotate either 180-degress horizontally or 120-degrees to a vertical position
CONS:
Highest illumination gives only four hours of battery life, which means carrying extra batteries if you depend on that mode
4
Petzl- STRIX VL Headlamp
Check Latest Price on Amazon.com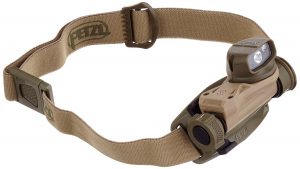 Many people gravitate towards the Petzl brand, and now we know why. This headlamp definitely makes our cut for the best headlamps under $200. Their products tick when it comes to functionality and durability. The STRIX VL is no different featuring intuitive operations including two configuration settings. Two visible lighting modes include the primary visible white beam that can be set as either a flood or spot beam. Hence, you can light a far distance when hiking up a trail path or just use it up close when pitching a tent.
Versatile Usage
With this headlamp, you don't get to use it just on your head. If you are into caving, you probably wear a helmet. This headlight will allow mounting on the helmet, plus it has other options like the vest or around the neck for those who are in the military. What's more, it comes with a rotatable headband. You can say goodbye to an achy neck since with this model you have the freedom to rotate it over 180-degrees in a horizontal path or vertically over 120-degrees.
Super Reliable
The STRIX VL is built with durable materials in that it can resist damage upon impact on hard floors from two meters. Besides, it can be submerged into water 1meters deep and still maintain its functional capacity. Lastly, it also seals completely against dust and debris so that the optics will remain fog free and always offer the best lighting options.
PROS:
Two visible lights: color coded and white light
Completely weather proofed
Provides constant lighting in all battery levels
Has double rotation
CONS:
Tactical style if that's not what you're looking for
3
Princeton EOS Tec Tactical LED Headlamp
Check Latest Price on Amazon.com
Something about Princeton Tec keeps us asking for more. If you're looking for the best headlamps under $200, this may just be the one. Take the Tec Tactical headlamp it is engineered with the best functional properties to provide you with the simplest working operations. You'll love that it comes with two visible light options including the white beam and the visible color beams. It can exude light over a short and long distance to help in optimizing your lighting options.
Military Oriented Functions
This headlamp has a niche in tactical environments. As you'll see, it has an interchangeable filter system with three color modes for night vision. The red is specific to preserving your night vision while the green is intended for hunter safety. Also, the blue color mode is necessary for blood tracking. Not to mention, it can throw light to a distance of 60 meters at the highest intensity.
Durable Construction
The Tec Tactical EOS is housed in a water and shock resistant compartment. You do not have to mind the rain showers or being out in a heavy downpour since it will let you see well amidst the storm. This aspect makes it a very reliable brand in that it lets you venture in all the dangerous environments without a flinch. Finally, this headlamp is submersible to one meter for use to 30 minutes.
PROS:
Lightweight and compact design
Comes with mounting accessories for the helmet and MOLLE systems
Includes filters to produce color beams
Weather proofed to IPX7 standards
CONS:
60 lumens is not at its brightest for night vision
2
Nightcore 1000Lumens HC30 Rechargeable LED Headlamp
Check Latest Price on Amazon.com
The Nightcore HC30 aims to meet the versatile needs of the outdoor enthusiast. You'll not have to be in civilization with this torch since it offers the best lighting with 1000 lumens. With it, you can safely see out to 177 yards and be able to get 1hour from the rechargeable battery. This convenience does not stop there since it also has four other intensities with different runtimes. Additionally, It allows you to expand your capabilities in whichever situation you find yourself.
Lightweight and Portable
This headlight comes with portability possibilities since it is subtle in size. The nylon headband allows for easy mounting, and it is also detachable so you can carry it in your pocket. It has a special switch, which allows using one hand for operating the functions. You'll also like that it has the flexibility to rotate vertically in 90degrees for that customized view.
Weatherproofed to High Standards
Crafted from aircraft grade aluminum, you can tell that this headlamp is built to last. It is rated to IPX8 standards such that it is submersible to 2meters. Nightcore is your go-to when you have to be underwater in heavy-duty industrial work or just enjoying some life under the sea. Furthermore, it comes with a switch cover to face the extremities, and it has an O-ring seal which prevents entry of moisture and fogging in the inner compartments. One of our top choices for the best headlamps under $200.
PROS:
Impact resistant and water proof to 2meters
Achieves a wide angle of view
It is resistant to heat
Comes with rechargeable 18650 batteries
CONS:
It cannot recharge directly from a power outlet the batteries have to be in the charging dock
1
Petzl Tikka Headlamp RXP Performance AW-15
Check Latest Price on Amazon.com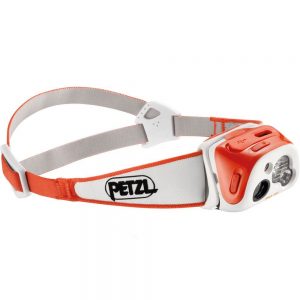 Once again, Petzl provides a headlamp to meet your needs just the way you like it. We like this one the best for our list of the best headlamps under $200. The Tikka RXP Performance Headlamp uses the latest technology in portable lighting. It uses Reactive technology to sense the outdoor lighting conditions to match the intensity of the beam. This aspect eliminates manual changes hence you can complete tasks much faster. You'll like that it also adjusts the beam patterns to meet those of the current ambient light automatically.
Customize the Settings
The Petzl RXP Performance is a smart lamp with the capacity to take personal settings. By downloading the Petzl operation system, you can create outdoor activities profiles like camping and mountaineering so that it serves you with the correct brightness level. Say you want to see over the edge of a mountain, it gives you a spot beam and sets the level to the highest intensity. You can also opt to disable the sensor by operating in different output modes including the high, low, and medium.
Battery Life
This headlamp is fashioned to use an 1800mAH lithium-ion battery. It is incorporated in the torch to be recharged using a USB cable. It allows the freedom of using wall sockets and other ports that allow USB like your car. What's more, you can recharge it up to 300 times, and it only takes 4 ½ hours for a full charge. Not to mention; it can also take 3AAA batteries just in case you are out for extended hours and the rechargeable battery is dead.
PROS:
It has two color options, red and white
Reactive sensor eliminates manual operations
Can operate in standard constant mode
Water-resistant for moderate rain
CONS:
Does not have a strobe mode
Conclusion about the Best Headlamps Under $200
The headlamps on this list of the best headlamps under $200 feature innovative designs to cover different lighting conditions. They are useful for everyday needs owing to the long battery life and durable designs. These headlamps offer smart choices to address the individual needs of tactical operations, hunting, camping, trail running and many others. If you value quality and performance in an inexpensive headlamp, you have one of the models here to thank. If you're looking for something a little less expensive, try our top list of the best headlamps under $100.