Hey! My name is Spencer and welcome to Headlamp Reviews. I started this website because I'm an outdoor enthusiast and have been using all sorts of headlamps throughout my life. I've been through buying the cheap knockoffs from the dollar store, to some higher end headlamps and many in between. I want to provide a central location where you can come and not make the mistake of buying the wrong type of headlamp for whatever type of activity you are doing. My goal is to make this website a central source for anything and everything to do with headlamps.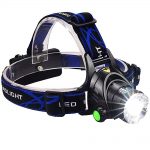 My first headlamp was from a local shop that imported products from overseas and sold them for a very low price. I thought to myself "It's just a headlamp, what do I care?", boy was I wrong. It lasted me for a grand total of about 2 days and then basically fell apart. Nowadays there are so many varieties to choose from and the quality has increased substantially. One of my goals with this website is to breakdown the main things that should be considered before purchasing a headlamp so people can make an informed decision. Whether you're looking for a headlamp under $50 or under $500, we have all the bases covered.
Feel free to browse around the website, you will be able to find plenty of information about headlamps such as brands, light intensity, functionality and fit. We hope that headlamp reviews leaves you knowing a little more about headlamps helping you make a smarter choice before you buy.
Headlamp Reviews For Different Activities
Things to consider before buying a new headlamp
Buying a headlamp should be a pretty straightforward process. Headlamp Reviews will help you make an informed decision. Most people wouldn't think about all the different varieties of headlamps available. Furthermore each headlamp has unique features that could provide to be useful for different types of activities. Consider these things before making a choice.
So in the end, after making these considerations, picking your headlamp should be a breeze. Headlamp Reviews will help you with this though and we think you will come out of here knowing way more than you ever really thought possible about headlamps and headlamp reviews. Hope you enjoy our website.