[Updated: 20 Mar 2020]
Currently, you will find all sorts of hard hat lights in the market where every seller labels theirs as the best. But, the only safe way to tell what are the best hard hat lights is looking at the particular light's features. One, the best hard hat lights should remain secure on your hard hat, and it should be well-balanced for comfort. Again, it should be lightweight and waterproof to ensure that you are not limited on when or where you can use it. It should also be bright enough for your needs and if it's zoomable the better. Also, the battery life should be long. And, just to mention, many people may select rechargeable hard hat lights from a convenience standpoint.
Lastly, your purchase should include all the necessary accessories.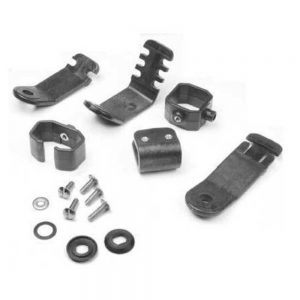 Before we get to some choices for popular headlamps that can be used on hard hats, I wanted to show you another popular option. Whether it is a headlamp or even a flashlight, Pelican has created a reliable Universal Helmet Flashlight Holder Kit that will most definitely help you mount your light on your hard had. This may give you some more leeway as to what kind of lamp you want to attach to your hat. Some people have used this to attach regular flashlights to their hard hats. Others have purchased removable lights like the ZebraLight and used the strap when necessary. Furthermore, you can remove the light from the strap and attach it using a good clip like this. This doesn't work for all headlamps but the kit + ZebraLight is a good combination for the best hard hat lights combo.
Below are some of the best hard hat lights on the market today.
1. Illumagear Hawf-01A Halo Task Light For Hard Hats – New For 2018
Check Latest Price On Amazon.com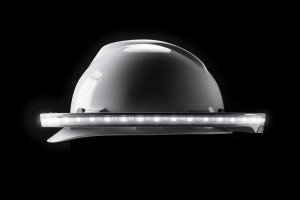 Whether you are an engineer, plumber, mason or any kind of work that requires you to be wearing a hard hat, you should consider Illumagear Hawf as your hard hat headlamp. It is designed to have a good and comfortable fit on standard hard hats and caps. This makes it among the best hard hat task lights.
What makes it a good headlamp for works is its ability to provide narrow lighting which is free of shadows. This makes working easy as you can clearly see your work tools and station. It can also potentially have the benefit of reducing accidents as you will have a good view of your surroundings. The beam light is visible up to 0.25 miles while lighting a similar distance spectrum.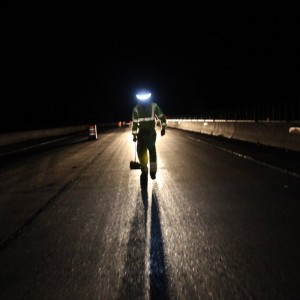 The Halo mode makes it possible to be visible by motorists from a distance. This makes it safe to use while working on road sites. It further reduces the chances of motorist related problems when at work. This hard hat light has a great IP rating which makes it resitant to environmenal elements. Some of these elements can include dirt, dust and water.
Additionally, what we liked most about this headlamp were the 4 lighting modes:
Halo: This mode gives you the full 360 of lighting goodness
Hi-Alert: This is a nifty mode with a rotating and pulsating light feature
Task Mode: This mode gives you double the power but just to the front of the lamp. This way, it gives you the ability to focus on an area in greater detail
Dim Mode: When you need lighting but just need to reduce the overall brightness the hard hat light runs on reduced power
Despite being very light, it is made of hard material that can withstand rough work environments. It is, therefore, an ideal headlamp for work. Further, the material is dirt and other workstation contaminant resistant. These include water, mud, dust, etc. This makes it very durable.
PROS:
Makes work easier as your hands are always free and light is free of shadows
Designed to fit on hard hats making it very comfortable
Has halo mode lighting, which makes it very visible to others
CONS:
More of an omni directional light, but does have the increased brightness in the front setting
---
2. Princeton Tec Apex LED Headlamp
Check Latest Price On Amazon.com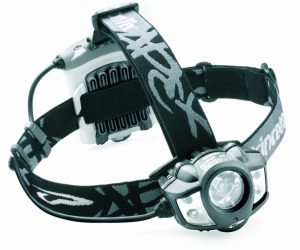 Princeton Tec brings us one of the best hard hat lights on the market today. First off, the Apex is a serious work light and an industry leading hard hat headlamp. What makes the Princeton Tec Apex stand out from the crowd is its hazardous location classifications and approvals. Notably, the Apex is approved by Underwriters Laboratories Inc. (UL). Markedly, this gives the Princeton Tec Apex UL certification. Specifically, the Apex is approved for use in Class I Division 2 Groups A, B, C & D. Also, it is approved for use in Class II Division 2 Groups F & G. If you aren't familiar with what this means, check out this Wikipedia article. Essentially, you can be sure the Apex will stand up to some pretty hazardous environments. In particular, we're talking about certain types of gas, dust and electrical equipment.
LED Hard Hat Light
The Princeton Tec Apex comes standard with four ultrabright LED lights. Furthermore, when you're searching for the best hard hat lights, the Apex is one of the brightest. Giving us 350 lumens of pure power the Apex is reliable and is potentially the brightest hard hat light on the market. Additionally, the max burn time on this hard hat light is 150 hours. With this in mind, you can have plenty of hours of light in its lowest setting.
Features And Specs
The Apex provides choices for powering it up. At the present time, the Apex offers power by either 4x AA alkaline, Lithium or NiHM rechargeable batteries. The choice is yours. Additionally, Princeton Tec includes multiple beams in this hard hat light. First, a narrow beam gives you great focussing ability. Secondly, the wide beam mimics daylight conditions. This way, you can use your peripheral vision more inclusively.
To sum up, the Princeton Tec Apex is one of our favorites for the best hard hat light. Moreover, it doubles as potentially the brightest hard hat light available. If you are in the market for a hard hat lamp, give the Apex a serious look.
PROS:
UL Certification for Hazardous Zones
Heatsink Technology keeps LED lights from overheating
Battery Power Display Meter shows power remaining
Multiple beam options
Variety of modes
IPX7 Waterproof rating (submerged 1 meter under water for up to 30 minutes)
CONS:
Consider lithium batteries to reduce overall weight of headlamp
---
3. Nightstick XPP-5458G Intrinsically Safe Permissible Headlamp
Check Latest Price On Amazon.com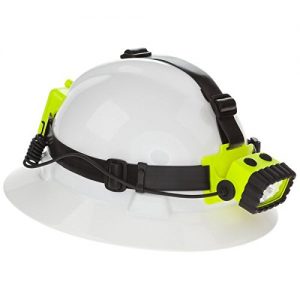 Next, Nightstick brings us the XPP-5458G hardhat light. The best hard hat lights have a base set of standard features. Nightstick actually improved on that and delivers a hard hat lamp worth noting. In the first place, the XPP-5458G rivals the competition for being the best headlamp for work. Sporting a number of important certifications, Nightstick goes all the way with this hard hat light. This hard hat lamp has been listed as Intrinsically Safe Permissible by a variety of professional organizations. In this case, by Ice, ATEX and Cetus. Moreover, even the Mine Safety and Health Administration of the U.S. Dept of Labor provided its approval under certain conditions.
In effect, we know this is one of the best hard hat lights! For exact class and division approvals, check the label. Furthermore, the XPP-5458G is safe above and below ground. Additionally, specific hazardous locations where gasses and dust are present.
Hard Hat Headlamp Functions
By the same token, let's look at some of the stand out features from Nightstick. In the first place, the XPP-5458G comes with 3 AA batteries of a premium caliber. Furthermore, this hard hat light has a spotlight feature. Equally important, Nightstick gives us a dual brightness mode in both white or green floodlight. We liked that this hard hat headlamp was designed right in the USA with a good quality make up. Also, the housing is constructed of an engineered polymer.
Technical Specs
For the gear heads out there, let's drill down on some of the technical specs of one of the best hard hat lights. First of all, we get a beam distance of up to 120 meters with the Nightstick. Weighing only 9.4 ounces this isn't a super heavy headlamp but it definitely isn't on the lighter side either. Nighstick gives us an accurate idea of average battery life with the XPP-5458G at 14 hours. Many manufacturers will give you the max life at the lowest setting, so it's refreshing to see a more realistic average life number. Furthermore, the light is waterproof and can be submerged under 1 meter of water for up to 30 minutes. Finally, this hard hat headlamp has an impact resistance of up to 2 meters.
PROS:
5 different modes for a variety of situations
Listed Intrinsically Safe Permissible by a variety of organizations
Best hard hat light for certain hazardous locations
120 meter beam distance
Batteries included
Designed in the USA
CONS:
Some concern about battery life; depends on usage and situation
---
4. DEWALT DWHT70440 Hard Hat Jobsite Light, Touch
Check Latest Price On Amazon.com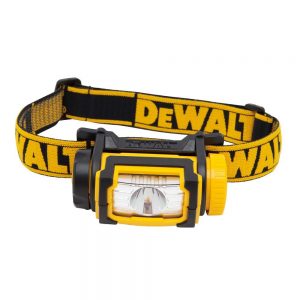 Most jobs require you to be hands-free, and there is no better way of lighting your path than using a bright headlamp. And, when you are not searching for just any light but a hard hat one, there is no better option than the DWHT70440. It features an anti-slip strap enabling it to remain secure around a hard hat, and this enables you to go any activity with better illumination.
Useful in all applications and high & low brightness settings
This hard hat headlamp delivers 104 lumens meaning that it's bright enough for just any application. You can use it in different environments with ease, even in the darkest, thanks to its super-brightness. Again, it features a high & low brightness setting that enables you to regulate the brightness levels depending on the kind of activity you are on. Also, this setting comes in handy when you need to the charge to last you longer.
Jobsite tough – Water resistant and shatter resistant lens
Durability is essential when it comes to best hard hat lights because one accidental drop from your head could shutter it and that could be the end of it. However, with DEWALT DWHT70440 headlamp you will have no worries while using it as it features water-resistant and shatter-resistant lens. You can thus use it even in wet conditions, and it will withstand a high degree of abuse thanks to the high-quality lens.
PROS:
Very bright light output
High & low settings
Anti-slip strap for hard hats
Water resistant and Shatter resistant lens
Very durable
Included 3 AAA batteries
Tilt function
---
5. Coast Focusing HL27 330 Lumen LED Headlamp, Hard Hat Compatible
Check Latest Price On Amazon.com
Well-balanced and good looking headlamp
Of course, everyone needs a well-balanced light as this contributes significantly to the overall comfort. The HL27 is very stable and makes it possible for any user to have it on their head or hat for as long as needed. When wearing it around your head, you will love the over the top strap as it greatly boosts its stability. Also, the construction is sturdy but lightweight thus even more comfort. And, the lamp looks good so if looks matter to you, this is the light to choose.
Useful dimming function and focusable optic
When in need to preserve your night vision, you will find this headlamp from the best hard hat lights to be really helpful as it features a highly useful dimming function. You can easily personalize runtime or output with it. Different tasks require different brightness levels hence the dimming function. It also features a focus ring for Fresnel lens and virtually unbreakable LED.
Hardhat compatibility and tilting head
This headlamp comes with helmet clips thus making it easy for one to use it on their hard hats. It is very lightweight and comfortable around your head but not everyone who likes it that way. Some love to clip it on their hats and this is the best option for that. Again, when it comes to directing the light, this headlamp makes it even easier as it features hinged and tilting head that you can easily turn even with your gloves on.
PROS:
Versatile headlamp delivering 309 lumens
Easy to use
Fully adjustable brightness levels
Over the top strap for more stability
Feels so solid
Variable light control technology for personalized runtime and output
Weather resistant
Focus ring for Fresnel lens
Virtually unbreakable LED
Hardhat compatibility (comes with helmet clips)
Hinged and tilting head for easy control of the direction of the light
Very lightweight
3 AAA batteries included
CONS:
Does not come with a pouch
6. Streamlight 61025 Trident HAZ-LO Division 1 Headlamp
Check Latest Price On Amazon.com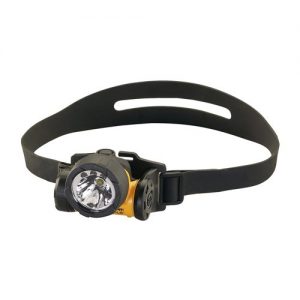 Another great headlamp from Streamlight, the 61025 Trident HAZ-LO is the more affordable option. All around, this is a great hard hat headlamp for diverse use. A little more on the affordable side, the Trident HAZ-LO has a great price point. Furthermore, the HAZ-LO is labelled as intrinsically safe for Class 1 Division 1 use. In spite of its cost, it does has some reduced specs compared to its rivals. In other words, the HAZ-LO only has a maximum ruun time of 24 hours at its lowest setting. Being one of the best hard hat lights for the price, keep value for your dollar in mind.
The Trident HAZ-LO is rated to IPX4 water resistance. Additionally, this Streamlight model has a 2 meter impact resistance. Notably, the Trident HAZ-LO comes with both an elastic and rubber strap. From our research, we've learned that people looking for hardhat lights prefer either rubber or elastic. Fortunately, Streamlight gives you both with this LED hard hat light.
Lights For Hardhats: Measuring Up Features
This isn't the brightest hard hat light, but for general use 85 lumens is plenty for the best headlamp for work. It's up to you whether you choose lithium or alkaline batteries as this hard hat headlamp supports both. Furthermore, you will get about 8 hours of continuous runtime in the high setting. Important to realize, the batteries should be at full capactiy. Additionally, Streamlight includes batteries with your purchase. The 90 degree tilting head allows you to shift your focus without shifting your hard hat. That being said, this hard hat headlamp weighs only 5.5 ounces which is the lower end of the spectrum.
Finally, we want to point out that the HAZ-LO can be one of the best hard hat lights for your money. If you are balancing price and features, give the Trident a good look as it can be more than enough for your type of work. In the long run, Streamlight is a brand that has been around for many years and can be relied upon for customer service.
PROS:
Lightweight
Class 1 Division 1 suitable
Rubber strap preference for many
Compact design
90 degree tilting head
Affordable price point
CONS:
Not the brightest out of competition but suitable for most work environments
7. Streamlight 61304 ProTac HL Headlamp
Check Latest Price On Amazon.com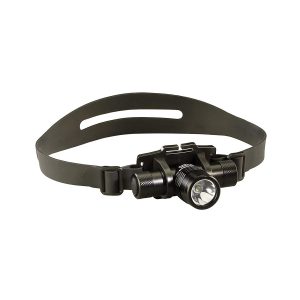 The ProTac HL Headlamp by Streamlight packs alot of punch into a small package. Don't let this headlamp fool you by its look, it boasts an impressive 540 lumens of essentially blinding light! We wanted to include this hard hat light into this article about the best hard hat lights for a number of reasons. First, the sheer power is hard to overlook. At 540 lumens, you may as well be staring at the sun (just kidding, the sun produces 10,000 lumens per square foot). Nevertheless, it is a candidate for the brightest hard hat light in stores today. Furthermore, you will get a whopping 172 meters of beam distance with this puppy. That's 564 feet! As you may have noticed, this headlamp excites us here at Headlamp Reviews.
Additionally, this hard hat headlamp is powered by CR123A lithium batteries that can have a lifetime of up to 10 years. This is great peace of mind if you aren't looking at replacing your hard hat light in a couple years. Streamlight includes the batteries for your convenience.
Is This A Hard Hat Flashlight?
Technically, yes. This is a hard hat flashlight. Alternatively, you can mount a flashlight on your hard hat with clips. For the time being, we will just call this a hardhat light. What makes this particular hard hat led light stand out is the subtle design. Streamlight have managed to put the power of a high end headlamp into a small package that can easily be one of the best hard hat lights. In particular, this headlamp measures 2.6 x 3.7 x 1.2 inches. Impressive for 540 lumens of power. Additionally, it weighs 6.1 ounces.
Total lifetime of this hard hat light is a staggering 50,000 hours. Moreover, they included three different programs to choose in the settings of the light. The solid state regulation of the hard hat headlamp gives you the most lighting possible for the duration of your batteries.
All things considered, Streamlight is a reputable brand with a good warranty on its products. Overall, we like the power of this hard hat light in its compact design.
PROS:
540 Lumens of power
10 year shelf life on the batteries
Rubber headband included for mounting on hard hats
Excellent beam distance
8. Zebralight H600 Mk III XHP35 Cool White 18650 Headlamp
Check Latest Price On Amazon.com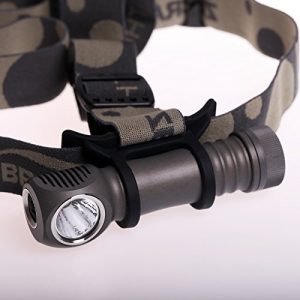 When it comes to a good quality, reliable hard hat light, we think that ZebraLight comes in on top. ZebraLight comes recommended by a variety of industry pros and this light does not disappoint. The headlamps features are not to be disregarded and combining this headlamp with the mounting clip kit above can give you a hands free lighting solution that you will be happy with. When on your search for the best hard hat lights, give the ZebraLight ample consideration.
Top Notch User Interface
The ZebraLight has a smart user interface that makes it easy to use and access settings by any user. If you need quick access to different settings then this headlamp will be right up your alley. Brightness levels and beacon strobe settings are accessible at the touch of a button and when you're on that next important job you want to be sure you're not fumbling over a setting on your headlamp.
Durablity & Reliability when you're hard at work
This headlamp is built to withstand the toughest jobs whether it's rain or shine. The ZebraLight comes equipped with optical grade glass that is tempered so you can rest assured it won't be cracking or breaking any time soon. The light itself is constructed of a super strong anodized metal which will stand the test of time when you're working your hardest. Did we mention this light is waterproof? Again, don't worry about dropping your light in the water and going for your break because this headlamp can be 2 meters under water for 30 minutes. Rated IPX7! That's something to consider in your search for the best hard hat lights.
PROS:
Cool White light (5700k)
3 Main Selectable levels of power: High, Medium, Low (2 sublevels for each)
80 degree wide spill angle light
12 degree hot spot light
Battery Capacity Indication system
Orange Peel Texture Reflector
Waterproof to 2 meters @ 30 minutes!
---
9. Totobay 5000 Lumens LED Headlamp, Hard Hat Compatible
Check Latest Price On Amazon.com
Superior Headlamp, Rechargeable Best Hard Hat Lights
This is by far the brightest best hard hat lights for the price. It delivers 5000 lumens thus illuminating quite a large area. It is not zoomable, but you really don't need the function as you will clearly see even the finer details of whatever you are working on. When it comes to power, this light uses two rechargeable batteries, and they are included in your purchase. It also comes with a wall charger, USB cable, and a car charger, not forgetting the emergency power bank. In short, the manufacturer made sure that you won't be buying anything more to add to your purchase.
Adjustable straps, lightweight, four modes
This headlamp's design prioritizes comfort. First, the straps are well-designed and are adjustable for comfort. Whether you will be wearing them around your head or a hard hat, the lamp will feel comfortable as it remains securely in place. It is also super-lightweight which also contributes significantly to comfort. Again, the headlamp features four brightness modes, and you can quickly switch from one to the other where need be.
Compact construction, waterproof, heatproof
Also, this is the most durable headlamp on the market. It is made of aluminum alloy plus rubber thus withstands a large amount of abuse. It is also waterproof, IP65 rated, thus qualifies as an all-weather headlamp. And, if you feel uncomfortable with headlamps that tend to heat up when in use, you will love this one as it is heatproof. It also features a green safety light for location guidance thus ideal for hunting, hiking, and other outdoor activities.
PROS:
5000 lumens
Four modes (Strobe, High, Middle, Low)
Adjustable straps
Waterproof and heatproof
Two rechargeable batteries, wall charger, USB cable, Car charger and emergency power bank
Compact construction
Lightweight
Green safety light for locational guidance
CONS:
A bit expensive but functions better that most other headlamps.
---
10. Streamlight 61052 Septor Hard Hat LED Headlamp w/ Strap
Check Latest Price On Amazon.com
Wide application range
This hard hat light features three lighting mode thus allowing for a wide application range. What's more, you can have it around your head or your hard hat, and your hands will be free to handle just any task. You can choose any of the three lighting modes to get the perfect light for the tasks at hand. Also, the different brightness levels help in regulating the batteries' run time, so you will be unlikely to be left in darkness if you choose the right mode.
Ultra-bright headlamp and 90-degree tilt mechanism
Brightness is not an issue with this light because it features seven ultra-bright white LEDs for powerful illumination. This makes it highly applicable to various activities, even those requiring flood lighting. Also, no more neck strain when trying to focus the light to the needed spot thanks to the tilting mechanism.
Lightweight with adjustable straps
As you already know, a heavy headlamp creates more discomfort and might be a huge hindrance to finding the best hard hat lights. This light is very lightweight thus making it easy for you to have it around your head/hat for a long time and remain active all through. Again, it features both rubber and elastic head straps, and both are adjustable. This ensures that it remains secure around your head or hard hat, a feature that adds to overall comfort.
PROS:
Features both rubber and elastic head straps, adjustable
Seven ultra-bright white LEDs
Three modes (High, low and strobe)
Powered by three AAA batteries (Included)
Low battery indicator
Adjustable beam focus
Remains secure on your hard hat
Easy to operate
Produces super-bright beam of light
Very lightweight
Strong construction from Aircraft-grade Aluminum for durability
Waterproof
CONS:
Minimal, isolated complaints about adjusting the straps.
---
11. MsForce 6000 Lumen Hard Hat Compatible Light, Rechargeable 18650, Waterproof
Check Latest Price On Amazon.com
Hard hat light delivering 6000 lumens
The focus here being the best hard hat lights, this MsForce light takes the lead as apart from falling squarely in this category it is also the brightest. It features three powerful LED bulbs that deliver up to 6000 Lumens for maximum illumination. You can use the light for just any activity as the brightness lights your way perfectly. The light spreads out to 200 yards, and the battery lifetime offers 100,000 hours of illumination.
Versatile hard hat light
This light features a total of four brightness setting modes. This means that you get to easily choose the amount of light that you need for various activities. Again, if you want the charge to last longer, mostly if you are not in a position to recharge it, you can select the mode with the least brightness. Also, different environments require different lightings, and the different modes give you the power to choose what you require.
Zoomable Light
Some activities do not require too much concentration of light and thus can be performed with just any lighting. However, some up close works require more light focus, and this is where the zooming in and out feature come to play. This headlamp enables you to have a bright spotlight that you can project on the specific object or sport thus making your work easier. Again, when you need to light an entire room, you can just zoom out to create a floodlight for that purpose. And, you do all this with a single adjustment.
PROS:
Hard hat light
Comes with two 3.7V rechargeable batteries (18650)
6000-lumen flashlight
Sturdy, comfortable and adjustable straps
Waterproof
Super-bright
IMPROVED LED
Zoomable
Four brightness setting modes
Conclusion On The Best Hard Hat Lights
The list above represents the best hard hat lights that will comfortably stay around your head and even better around your hard hat. You can thus use them on different projects thus eliminating the need for two separate headlamps. We have covered all the important features for each, and we hope your shopping will be easier.