From repairing your kitchen sink to changing a flat tire on the road, the best headlamp for work is a useful tool you can't do without in low light conditions. If you have ever worked with a flashlight, you know the inconvenience of putting it down when you need to use both hands. Sometimes we even tape it to our foreheads, but that's the worst case scenario!
A headlamp, on the other hand, mounts directly to the forehead such that you can see what you are working on perfectly. Additionally, it helps in conducting fast repairs as you can see and identify parts. With a headlamp, you are set for efficiency in many work-related environments.
Our Top Picks For The Best Headlamp For Work:
Princeton Tec EOS LED Headlamp
Check Latest Price on Amazon.com
If you are stranded on the road trying to fix a puncture, you know how much the best headlamp for work comes in handy. The Princeton Tec EOS uses a 1-watt super bright LED alongside Princeton's optimized lens which enhances the beam throw distance and the light's coverage area. It is equipped with four output modes including high, medium, low, and flash modes.
Weatherproofed Housing
The housing is by a molecular-bonded case which remains watertight. It is ideal when working in wet conditions since it keeps the torch functioning. The headlamp resists water logging and formation of water beads which would otherwise prevent clear lighting. It is also robust as it enjoys a construction from high-grade materials.
Constant Lighting
The Princeton Tec EOS is one of a kind with a self-regulated light output. It ensures the torch retains its initial intensity after turning it on such that if the batteries run low your torch will not dim. It uses 3AAA batteries which give a burn time of 121 hours. Furthermore, it is reliable as it can throw light up to 56 meters in the highest setting.
Comfortable Straps
This best headlamp for work uses a single strap. It wears quickly on caps and helmets such that it won't sag or press the back of your head with the batteries. We also like that the switch is easily located and can be operated with gloved hands. Finally, it pivots in the direction you want the light giving you convenient lighting.
PROS:
Constant brightness levels
Meets UL safety standards
Lightweight even with 3 AAA batteries (3.7 ounces)
Long beam distance (56 meters)
CONS:
The straps are not long lasting
Streamlight 61304 HL Pro-Tac Headlamp
Check Latest Price on Amazon.com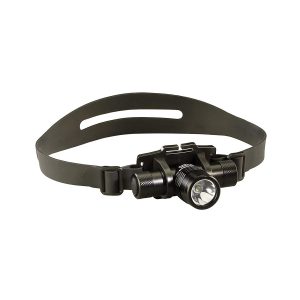 Whether you are working under your prized sports car, repairing a leaking faucet, or installing a wall cabinet in the basement, the Streamlight is your workhorse. First off, it exhibits some reliable properties including super bright 540 lumens which casts light to 172 meters. It is your best headlamp for work for both indoor and outdoor work environments.
Robust Design
Secondly, this headlamp uses LEDs which have a 50,000 hour lifetime. It is shock proofed such that the LED does not shatter or lose its strength when subjected to extreme environmental conditions. The Streamlight Pro-Tac benefits from aircraft grade aluminum housing. It is not only protected from the elements, but it is also impact-proofed. The gasket-sealed glass lens speaks of a product that is built to last.
Versatile Usage
Lastly, the Streamlight Pro Tac comes with a rubber headband for use with helmets and a plastic strap for regular use. You'll love how it sits seamlessly such that it does not squeeze the sides of the head. It weighs only 6.1 ounces meaning you'll not feel like it's dragging your head when working for long periods.
PROS:
Provides maximum light output in all battery levels
Sturdy design using aluminum
High light intensity (540-lumens)
Long life LED bulbs has 50,000hours lifetime
CONS:
Does not have a flood beam
Energizer 6 LED Headlight
Check Latest Price on Amazon.com
Are you looking for the best headlamp for work?  Then you'll be interested in the Energizer Headlight. Notably, it boasts 6LED bulbs which can switch between a flood and a spot beam. The spot and flood beam together give off 36lumens and 19hours of battery life. Better still, when you are using either of the beams, you get 20lumens and 30hours of burn time. It's an excellent choice for working long hours in low-lit environments.
Greatly Useful
This headlamp gives you five modes to choose from. There's the high, low, medium, steady red, and flashing red. It's useful in active working environments as it is in emergencies. The red flashing light will come so much in handy if you'll ever need a rescue team to find your location. Not to mention, that it is robust to take on impact without breaking into tiny pieces. It's your reliable friend that you can't leave home without.
High Comfort Levels
When packed with 3AAA batteries, this lamp remains lightweight. You should not feel fatigued after wearing it for long hours. More so because it does not bounce around, it remains stable. You'll like the two built-in pencil holders. For those in the construction industry, your tools will always be ready for use.
PROS:
Elastic bands are adjustable
It has both the flood and spot beam
Uses long-lasting 3AAA batteries
It pivots for changing light's direction
CONS:
The highest intensity mode is too bright that it can blind others
DEWALT DWHT70440 Jobsite Touch Headlamp
Check Latest Price on Amazon.com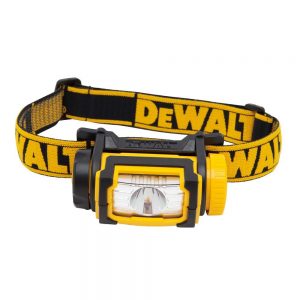 If you have worked with a DEWALT product before, you know they mean business. The Touch Jobsite Headlamp is no exception as it carries all the admirable features you'd want to see in the best headlamp for work. One, it exudes 104lumens of brightness plus it has high and low settings to switch your intensity. It just works for all applications.
Sturdy Construction
The DEWALT Touch is built to take all that you have to throw at it. Be it falling rocks or gushes of water. It is impact resistant to 2 meters since the bulb is shatter-proofed. It will last in good conditions seeing that the housing is very robust. Additionally, the straps have an anti-slip surface such that it can fit securely on a helmet. Moreover, these bands are highly durable to resist sagging and losing their elasticity over time.
Impressive Runtime
With 3 AAA batteries, it's a bit surprising to find that it can run for 6½ hours at the highest setting. At the lowest, you have over 29 hours which is quite reliable in harsh conditions. It is built to be energy resistant so that you'll not need an extra pair of batteries every time you are headed out. Finally, go grab this best headlamp for work and let it give you extended use.
PROS:
Anti-slip straps
One knob switches between low and high-intensity settings
Impact resistant to a drop as high as 2meters
Extended battery runtime
CONS:
Bulkier than some work headlamps (11.8 ounces)
Streamlight Septor 61052 LED Headlamp
Check Latest Price on Amazon.com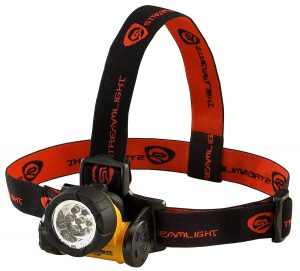 Getting hands-free lighting gets better with the Streamlight Septor 61052. It boasts seven super bright LEDs. Each bulb has a life of 50,000hours so you'll not replace them anytime soon. It provides three lighting functions which have up to 55hours of runtime. It's a must carry item, since there's no need of having spare batteries.
Versatile Usage
The LEDs provide three-way lighting in that it can be of use for full coverage using a short beam, or you can cast the light over medium and long distances. It includes a 90-degree tilting function to focus the light on the subject at hand. It also comes with adjustable straps that can go over a helmet or a cap. The LEDs are powerful, and they give a natural yellow light so that you can work efficiently.
Built to Last
The housing is from a virtually indestructible polymer. It is water resistant such that it will not mind being in a storm when you have to change a flat tire. A rubberized bezel protects the lens plus since the glass is unbreakable. You have the best headlamp for work that will last for a decent time.
PROS:
Has a lifetime warranty
Weighs only 5ounces
Robust thermoplastic construction
90-degree tilting head
CONS:
It goes through batteries fast when all LEDs are running
Best Headlamp For Work Buyer's Guide
To buy the best headlamp for work, you need to look at a few things:
Otherwise referred to as lumens, you'll want to know the intensity you need. Know that high brightness drains the battery first so you should look to utilize the lower patterns. For example, if a headlamp gives a total 300 lumens, 200 in medium intensity and 100 lumens, you can use the medium and low modes which are bright but won't drain your battery.
Regarding the type of battery the headlamp uses, it should run for a reasonable time. Some headlamps have their light regulated to a constant brightness such that it will switch when the batteries become low. Also, for those non-regulated lamps, the battery life should at least be indicated against the lumens so that you'll have a pretty good idea of the runtime.
When working, your headlamp shouldn't remind you it's sitting on your head. To start, look for lightweight devices that have considerable bulk. This means that if you bend; the torch should not shift and bob back up when your head moves.
Furthermore, ou'll encounter the standard straps which wrap around your head or three straps where one goes over the top of your head. Either way, they should feel comfortable by not pressing the sides of the head.  Lastly, if you're wearing the headlamp over a helmet like in the construction or rescue industry, it should wear securely over the hard hat.
Conclusion About The Best Headlamp For Work
With all the headlamps that claim are suitable for work out there, many aspects come into play to qualify their claims. We have gone through the devices which we believe live up to the best headlamp for work. They have super bright lumens, sturdy designs, reliable runtime, and long warranties. You won't believe what you are missing if you are not using any of our top picks for the best headlamp for work.