Adjusting to a moonless night is hard for the human eye considering we cannot identify objects entirely in the dark. Picture yourself with a lantern that rolls down the hill when you are out hiking or camping. You'll be left to scramble through rough terrains especially in unfamiliar surroundings. Including a headlamp will save you from such stress giving you the chance to cast a lot of light all around you. Today we bring you our Coast headlamp reviews.
The beauty of headlamps comes in the compact size, hands-free operations, and friendly user design. Any member of your family can use it as you only fit it around your head and it's good to perform. With the many options available, there's one model that fits the average hiker, camper, and adventurer. The Coast brand provides headlamps that come with different beams to cover various situations.
Here we showcase our Coast Headlamp Reviews from some of the bestselling headlamps from the prestigious Coast Headlamp brand.
1
Coast 285 Lumen HL7 Focusing LED Headlamp
Check the Latest Price on Amazon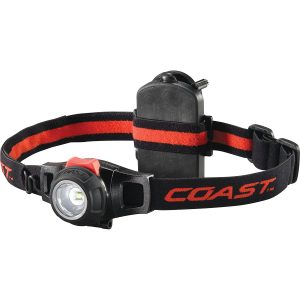 If you happen to hike down after dark, you'll benefit immensely from the Coast 285 Lumen Focusing LED Headlamp. It carries a spot beam which throws light up to 119meters. It allows you to shine to a long distance where if you are going to visit the toilet at night, you won't tumble over a rock. And if you do, you'll not lose your torch as it is fixed on your head at all times.
Functional Modes and Long Battery Life
With two brightness settings, it can also dim to light to 13 meters with ease. This focus mode is useful when you are reading or cooking a meal in your camper. This headlamp has four lumens which afford a super bright light thanks to the pure beam focusing optic. It combines both the flood and spot beam to support both long distance and close viewing.
Focusing the unit is a breeze with the twist focus system. One only needs to rotate the torch and it transitions from the flood to spot beam. To make adjustments to the direction of the light; there's a hinge to tilt the head effortlessly to whichever side you choose. You'll enjoy a long runtime of up to 70 hours on the low-intensity setting and 1½ hours in the highest mode.
Subtle, Easy to Transport and Weather Proofed
As it is light in weight, it affords you portability since it takes just a little space in your camping bag. This model is a robust design to provide water resistance to the so that it can still operate when it is pouring. It is very attractive if you live in areas where the weather tends to be unpredictable.
2
Coast FL85 Dual Color 540lm Focusing LED Headlamp
Check the Latest Price on Amazon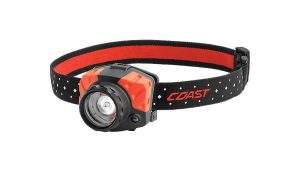 This model is another incredible design by the Coast brand in Coast Headlamp Reviews. It carries two colors the white and red to take care of focusing in different situations. The red light is particularly important for night vision since it preserves your eyesight. You can see out to a further distance for long hours since in this function, the battery life is extended.
Advanced Beam Tech
This headlamp explores the pure beam focusing optic. It is capable of casting long beams for finding things in the dark like finding the right path when lost along a trail. Since it is adjustable to fit in a custom manner, you can use both hands when fixing equipment like camping gear or a puncture in your car. It's a crucial tool to have since with the flood beam; you can rummage through in a tent while providing ample light without blinding other campers in proximity.
At the brightest intensity, you can get two hours of continuous use while at the lowest it goes for only 17hours. Nevertheless, it has a long beam distance in either close or long range focusing. It can transmit light up to 172meters in the spot function and 63 meters in the flood operation. Owing to the red light, it is efficient when you want to hunt as this kind of light does not spook animals.
Lightweight plus Effortless Usage
Since it uses AAA batteries, the unit is subtle to not strain your head after wearing it for long hours. You'll like the twist focus technology which affords quick and easy one-hand adjustments. It has a light control lever at the back to ease the toggle between the different light settings.
3
Coast HL7R 240Lumen Rechargeable Focusing LED Headlamp
Check the Latest Price on Amazon
If you are looking for a headlamp that will accommodate most of your outdoor needs, the Coast HL7R is a real catch. First, it is very inexpensive offering many important functions like the long battery life and distance. The beam is ready for anything that comes your way from unmarked paths to reading maps and cooking in poorly lit conditions.
Reliable White and Red Beam
The optics tell a tale of a well-thought design since it can transmit both a flood and a spot light in a smooth transition. You get to read and scan through stuff with the flood function or find your way through bushes. In this operation, it can go on for forty hours as you can be able to optimize the runtime. Through adjusting the output control, one can personalize the functions to get the best usage.
Robust Construction and USB Charging System
This model is constructed to be impact resistant. It can take on a beating if it bumps onto rough surfaces owing to the aluminum alloy housing. This Coast headlamp is also weather-proofed such that if you have to run out under the rain, your lamp will still be in full functionality after a good downpour. It is the right equipment when it comes to reliable performance.
The batteries are rechargeable with a USB cable which allows you to get back to work after a few hours of charging. The textured exterior allows making the changes even when you have on gloves, or your hands are wet. It carries a large power switch plus an easy-to-grip focus wheel to make quick focus changes.
3
Coast 7498 LED Lenser Rechargeable Focusing Headlamp
Check the Latest Price on Amazon
Of the many designs that Coast provides, the 7498 LED Lenser is the most compact. It also has rechargeable batteries meaning it is environment-friendly. The convenience of 3AAA batteries makes it convenient to last 3½ hours of continuous usage per charge. It offers two functions of brightness intensities including the dim function when you want to see things up close.
High Performance with many Lumens
You'll like that it also transmits light to 590ft. This capability allows it to perform well when you also want to light the way for others. With 170lumens, it's incredible how bright and long the highest mode can get. You'll like it even more since it comes with a hinged attachment makes it easy for you to make adjustments to the light intensities. You can use it for camping, travel, and evening hiking. You'll also benefit from twisting the lamp instead of straining your neck.
When searching for things, this headlamp gives you a quick method to find them. The batteries are built into the design where it provides a snug fit each time you adjust the straps. This means it will not slip from the head if you make a quick turn or slip on wet surfaces.
Metal and Plastic Frame
It's with this headlamp that you'll benefit from a durable device. It has metal and plastic casing providing the longevity that you need over the years. This type of housing alleviates some of the weight; hence it is portable and can be worn for long hours without fatigue.
The Coast Brand (Coast Headlamp Reviews History)
This company is family owned for almost a century. In 1919, a family in Oregon, Portland developed their first fillet knife to gut and clean fish. From there, a business idea was born. It was a development to see more efficiency even in the most complicated situations. They believe in making the right tools to add to professionalism in outdoor work.
Coast produces a line of multipurpose tools including recreation items, lighting equipment and other multipurpose tools used in hunting. The company engineers their tools with advanced technology to ensure only the best is offered to the customers. Top of the line is their incredible flashlights and headlamps which see distributors all over the world stock their products.
Innovations and Reliability of the Coast brand.
Coast Headlamp Reviews can say that Coast sets itself apart from other companies offering a lifetime warranty on all their products. This aspect gives the credibility since they can stand behind their products. This company is revolutionary, but as it stays ahead, there is collaboration with safety teams on hunting grounds and patrol teams to provide reliable products based on the information they collect. It is, therefore the most enjoyable and safest brand for demanding environments.
Coast is proud to introduce exclusive lighting headlamps including the FL75R. It is designed for the law enforcement industry plus emergency situations. It only weighs three ounces with rechargeable batteries. The tool is a remarkable development since with the changing outside world, anything can happen, and preparedness is key to survival.
Conclusion about Coast Headlamp Reviews
Coast brand is pleased to offer you functional headlamps in simple designs. They purpose to make you feel safe in random grounds. Enjoy the outdoor even amidst of threat. They stay abreast of latest developments to continue tapping into the changing world. This is a timeless company, and their products are here to stay. When looking for coast headlamp reviews, this is the best place for you to look.
The collection above speaks of resilience, convenience, and flexibility in one package. Every headlamp is particular to a certain situation. Coast builds the product for every user including children. They are lightweight, easy to focus and safe to use. With that sentiment, you can expect to have your Coast headlamp reviews for a decent period.