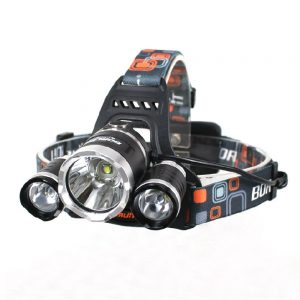 Boruit has released their RJ 3000 headlamp model. Our Boruit Headlamp Review will give you some additional information about this product. This headlamp boasts a ton of great features for a variety of different outdoor activities. The first thing that pops out at me is that it includes 3 original CREE XML T6 LED bulbs. These can boast an extensive lifetime of around 100,000 hours of use. The headlamp is made out of a durable aluminum alloy material. This Boruit Headlamp aluminum alloy material does give a certain level of abrasion resistance which is a nice bonus.
See It On Amazon.com
The Boruit Headlamp Review (RJ 3000)
Functionality
When we think of functionality we mainly think of 3 things: The quality of being suited to serve a purpose well. Practicality. The range of operations. Moreover, for a headlamp, this definitely serves its purpose well and beyond. Most run of the mill headlamps will only include one light, but seeing as this one includes 3 lights, we give it a higher score in the functionality department. This Boruit Headlamp Review will go over some things. The 3 lights have 4 different modes which we explain more in the brightness section of this review. Apart from the light itself, you are able to rotate the head 90 degrees so you can point the light in any direction you see fit for your chosen activity. The Boruit headlamp is also waterproof and can be used for a variety of activities such as hunting, camping, night fishing, running or even reading.
Brightness
Another headlamp in the 5000 lumen camp, the Boruit Headlamp is very bright. The Boruit RJ 3000 headlamp has 3 brightness settings: Low, Mid, High and Strobe. The Low uses 1 LED, Mid uses 2 LED's, High uses all 3 LED's and Strobe uses all 3 LED's and makes them flash – a potentially useful safety feature. Additionally, there is also a red light indicator on the battery holder that can play an important safety role in night activities, especially if you are facing the other direction.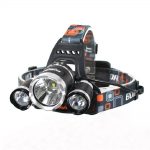 Comfort
The Boruit RJ 3000 headlamp can be worn directly on your head. Also can be worn on a hat or helmet. Secondly, the battery cover is soft in design which won't press against your head so much. This adds to comfortability. Equallly important, if I could add a quality component into the comfort section I like the fact that the LED's are CREE XML T6. They have the potential lifespan of up to 100,000 hours. On average, that could be about 10 years.
Features
Additional features of the Boruit RJ 3000 Headlamp are that it includes a USB line. It also includes 2 rechargeable batteries and a car charger. Likewise, if you're out in the wilderness and your batteries run out, what better way to charge up the headlamp than with the car charger? Furthermore, the Boruit RJ 3000 Headlamp is waterproof which is definitely a bonus when using it either on the water or out in the wilderness on those super rainy, wet days. Additionally, Boruit actually provides a 100% money back guarantee which I was personally impressed with. They say they will work with you until you are satisfied or else hook you up with a full refund, which is pretty impressive to say the least. Bonus points on that one. There is a red indicator light on the battery holder which can help in terms of safety when walking or running at night time.
Conclusion On The Boruit RJ 3000 Headlamp
Firstly, the Boruit RJ 3000 Headlamp is a great overall headlamp. Whether you are camping, hiking, fishing, hunting, running, jogging or reading, you will likely make use of this headlamp. It's lightweight and built with a quality aluminum alloy material which will provide for durability. Secondly, the waterproofing is a nice bonus as well. Comfort-wise, having both a headstrap and a cross strap this headlamp should be quite comfortable as the straps are adjustable both around your head and on the top of your head. Finally, The Boruit RJ 3000 Headlamp weighs only 15.2 ounces. It includes 2 Lithium ion batteries. The light comes with 4 modes: Low, Middle, High and Strobe. This concludes the Boruit Headlamp Review.
Brightness: 5000 lumens max
Lithium Ion rechargeable batteries
4 Working Modes: Low, Mid, High & Strobe
90 degree rotatable head
Waterproof
100,000 hour average lifespan for bulbs
Weighs only 15.2 ounces
Average battery life 15 months
Comfortable and light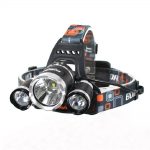 Boruit RJ 3000 Headlamp
5000 LM with 3*Cree XML T6 LED Super Bright Flashlight for Hunting, Camping, Night Fishing, Running, Reading, Kids, Perfect Hands-free Rechargeable Waterproof Work Light